Today there was one game, which doesn't necessarily count as the weekend, but shutup because it was only one game. Manchester City got a goal in the 23rd, and survived many Middlesbrough attacks(failures) to win this one 1-0.
Sunday we saw West Ham take on Blackburn. They won 2-1, and Hayden Mullins added what seemed like a meaningless goal in the 80th, which was soon very vital as Blackburns David Bentley scored in the 90th. West Ham pretty much had control from the get-go.
Saturday Portsmouth beat Reading 3-1. Fulham lost to Wigan 1-0. Arsenal tied Everton 1-1. Everton is a team trying not to lose position overall in the Premiership, and stopped Arsenal's 5 game win streak. Two 0-0 ties were dealt, Watford-Tottenham, and Newcastle Charlton.
Chelsea's current goal keeper, Hilario of Portugal, stopped a PK early on, which set the tone for the rest of the match, as Chelsea defeated Sheffield United 2-0.
Regarded as the game of the week on FSC, Liverpool defeated Aston Villa 3-1. a Scoring flurry between the 30th and 45th minute was all Liverpool would need. Liverpool's Manager Rafael Benitez has been on the hot seat at some times during this season, but this win has temporarily silenced the critics.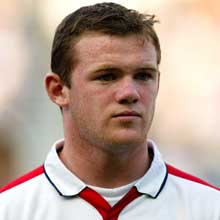 And last, but not least, the Re-awakening of a strange and weird looking young soccer player. There has been a Wayne Rooney siting, and the 21 year old striker was brilliant for Manchester United @ Bolton. He had a Hat Trick, which is really no small feat no matter who you are in the Premiership. The Portuguese Premiership equivalent to Brady Quinn, Cristiano Ronaldo added a goal as well.
Perhaps
THIS
was Rooney's problem.
So this is how it laid out this weekend. Manchester United and Chelsea are now tied at #1 at 25 points each. Bolton remained in 3rd, followed by Portsmouth in 4th, and Arsenal in 5th.